Commercial electrician in dallas
Schedule commercial electrical repair services in Dallas Texas now. Our profesional electricians are certified and ready to handle any job. We are here to assist you and your business with quality electrical solutions.
Electrical repair services
We are here to help you fix any electrical problems that you may be encountering. We provide the best commercial electrical services in Dallas, TX including surrounding areas such as Fort Worth and Houston. Call us today for a quote or to get an emergency electrician in to fix any issues you may face.
Commercial Lighting 
Our commercial lighting installation and repair services in Dallas offer clients the best lighting lighting solutions for both indoor and outdoor areas. If you are in need of a few lighting fixtures, or perhaps a complete commercial lighting project, we are able to offer a full range of products and services to meet your every need. So if you are looking for LED lighting or commercial lighting services in Dallas the don't hesitate to get in touch with us 
Round the clock 24/7 Service
Are you in need of an emergency electrican. No need to stress we have highly experienced and hardworking electricians ready and available to serve you for any situation you may be experiencing. Give us a call and we will take care of your scenario for you.
About us
Commercial electricians in Dallas Tx
We have the expertise and experience to offer top electrical solutions to the commercial sector in Dallas. Our general electricans are trained and put through rigourous testing requirements to ensure that they are able to cope with a wide variety of different situations. We are a local company specialising in commercial and industrial electrical services in the Dallas are and are fully trained to deal with any commercial electrical repair, electrical system upgrades, electrical wiring, building energy audit inspections or electrical fixture installations. Our business is our passion and we want and understand the power of word of mouth marketing. As such we want you to be totally satisfied with the job as this often means great referal business for us. We operate on a policy based on trust and as such our electricans are fully background checked and put to the highest ethical standards and workmanship comptency tests. Our electricans are reliable and will be upfront with the customer about the problem and the costs that are involved so that the customer is not faced with a suprise bill or extra costs at the end of the job. We do the job right first time and if there is going to be changes we will ensure that you as our client are the first to know. Give us a call anytime as we are here to help and serve you with the best solutions for your electrical needs on the market. Hardworking and dedication is our motto and we carry that with us to every job.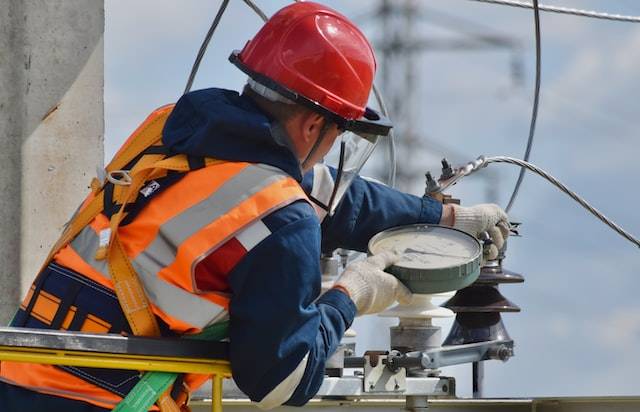 Great work from this
commercial electrician
in Highland Village. They wired up some offices in our commercial building and did a great job for a reasonable cost. Thanks!
Commercial Electrical Contractors
offers exceptional electrical service and contracting expertise in the North Dallas area. We first met the technician while working on a commercial construction rehab project at a medical office building. He patiently answered our questions and walked us through the entire plan to ensure that we were satisfied with the outcome. He offered advice and experience the whole way through and his entire team was pleasant, professional, and efficient. We intend to use them again and highly recommend them.
James McDonnell
2022-08-08
They performed the installation of our new circuit breaker panel yesterday at our retails strip mall location in Lewisville and did a very nice job. All of the work was very clean and organized. Well done! Just thought I'd pass that on as a recommendation. Thanks!
I'm a commercial real estate broker and needed a great commercial electrician to handle some building code violations so we could get the property on the market. This electrician did a great job and followed through to make sure everything was handled with the building inspector. Great service, my new goto electrician in the North Dallas area.
Nicole Abercrombie
2022-07-27
Stand up professionals 100%! They did some electrical wiring work at a strip mall in Flower Mound near Stone Creek Park. Very professional manner with educated electricians who worked efficiently and cleaned up after everything. We're happy with the honest service and people!
Excellent Electrician! On time and great communicator. Highly Recommend them!
Leroy Upchurch
2021-12-02
"Had CE Commercial Electric out to my warehouse in Denton earlier this week to troubleshoot a sporadic electrical issue which resulted from recents storms. They were able to work me in between appointments and quickly found and fixed the problem. Quick response and resolution was critical as I have stock coming in and out. Charge was very reasonable. I'll definitely use them again. "
I've hired CE commercial electric for various jobs at my commercial rental property in The Colony . They've done replacement of old outlets, install ground-fault new outlets, and installed ceiling fans/lighting fixtures. These are items where I really want a licensed electrician doing the job, and they have been very professional and reasonably priced.
They came out and inspected an apartment complex we manage and found multiple wiring issues that were causeing tripped breakers constantly! The tenants were upset and we needed to get it done, so they were the right company to do the job. I very much appreciated them taking care of the issues.
We have used these electricians for our security system and lighting install and they did a great job! We have an used auto lot and had some vandalism, so we had to do something fast! They are a great company to work with and are very professional.
Quality Electricians in Dallas - Commercial Electric DFW
Circuit Installations and full Upgrades
Businesses in and around Texas are pushing their production lines and services to the maximum placing large demands on their power systems. In 2022 we are all facing the after effects of economic recession so there is a need to push electrical systems even harder to handle increased production and more efficient rates. During all this you may find your electric power unit breaks or simply needs to be upgraded. This is where Commercial Electric DFW will assist you and get you the right system or fix your broken one hassle free.
Commercial Lighting Solutions
Every business has and needs great lighting. Often business lighting can be insufficient for the allocated space that needs to be well lit. We are glad to be able to offer our clients Commercial lighting and quality LED lighting for the best lighting repairs and installation services in the DFW area. If your business lighting is looking a little dim then don't hesitate to give us a call. Our lights and installation and repair services are very affordable.
INDUSTRIAL ELECTRICAL CONTRACTORS DALLAS TX
ALSO SERVING FORT WORTH, HOUSTON & AUSTIN AREAS
High-quality electrical services at an affordable cost
What sets us apart from other electricians in Dallas is our dedication to quality and affordability. We believe that everyone deserves access to a trusted electrician when they need one. We do this by providing affordable and fair prices for high-quality services. Our team is dedicated to exceeding your expectations.
EQUIPED TO HANDLE ALL YOUR ELECTRICAL NEEDS
Our team is full of experienced Commercial Electricians who are passionate about their work. Our electricians are committed to always providing outstanding service, every time. They have been in the industry for years and have performed thousands of electrical installations, so they truly understand how to get the job done.
Commercial Electric DFW is your trusted commercial electrician in Dallas. We have some of the best electricians in Dallas.
one of the largest electrical contractors in texas
Our team at Commercial Electric DFW specialize in commercial electrical services such as wiring and installation of systems, repairs, and safety checks. We service a wide range of businesses in Dallas TX and surrounding areas. Whether you need new or repairs, we have the technical know-how and expertise you can rely on.
We are experts in 
Businesses and construction sites have no time for power failures or electrical outages. We are here to ensure the safety of your business location, employees, and customers. We offer emergency electrical repairs across the DTX, Ft. Worth Metro.
We Put Safety First
If you've noticed burning smells, flickering lights, full or partial outages, broken outlets or anything else, call us immediately to properly diagnose the issue and recommend a professional solution. Our highly trained crews will arrive prepared to diagnose and repair your electrical components and systems as quickly as possible.
As soon as our staff arrive, they'll fully inspect the interior and exterior of the building to ensure there are no dangerous hazards to ensure a safe working environment. Once deemed safe, our crews will begin to work immediately to repair electrical damage or restore power to get your business back up and running as safely as efficiently as possible.
Whether your entire building needs new wiring or you are looking to upgrade  components or you are in need of emergency power restoration, call us today for efficient and cost-effective service IN TX.
Experienced and Trusted electric Services
Our experience puts us above the competition after a combined number of years of being in business. Our combined experience spans over 30 years. Regardless, our most important priority is ensuring that the customer experience is seamless and enjoyable.
Lighting Systems
Whether you need a few fixtures, or a complete lighting project, we offer a full range of products and services to meet every need. We work closely with our customers to understand their unique needs and provide quality products and installation services that exceed expectations. Our experienced team provides expert advice and guidance throughout the entire process, ensuring customer satisfaction.
Call us today for a quote or bid if you are located in any of the following service areas:
Dallas, Texas
Ft. Worth, Texas
Houston, Texas
Austin, Texas
Let us worry about your electrical needs.
Call for quotes and bid submissions. Our leading professional electricians are qualified and available. we are an accredited business and have great customer references and strong business partners. 
What is a commercial Electrican?
Commercial electricians in Dallas are electricians that perform electrical jobs in commercial buildings such as commercial offices, shopping malls, government buildings, hotels, restaurants and retail outlets. In essence a commercial electrician can be viewed as someone who works on business projects and will there act as an electrician in the business or commercial sector.
Whats the difference between residential and commercial wiring?
Residential electricians typically work with single-phase voltage systems ranging from 120 volts to 240 volts. Commercial electricians work with three-phase voltage systems. These use conductors that carry  voltages between 120 volts and 480 volts.
How Do I Choose A Commercial General Contractor?
Reputable companies should be willing to provide you with references from companies or business owners they've worked with on past projects. References are incredibly valuable to determine the experience and track record of a given electrical contractor. Ask us for project references to show that we are experts at completing projects on time and within budget! Our professional staff are ready to satisfy any electrical needs you have.